The title of this blog post should be pretty self-explanatory, as the world combats and adjusts to the COVID-19 pandemic. More work is being done remotely than ever, teams are collaborating via video chat and other digital means , and companies are being forced to discover new ways to operate with enhanced agility and flexibility in attempts to maintain normal operations in an abnormal time.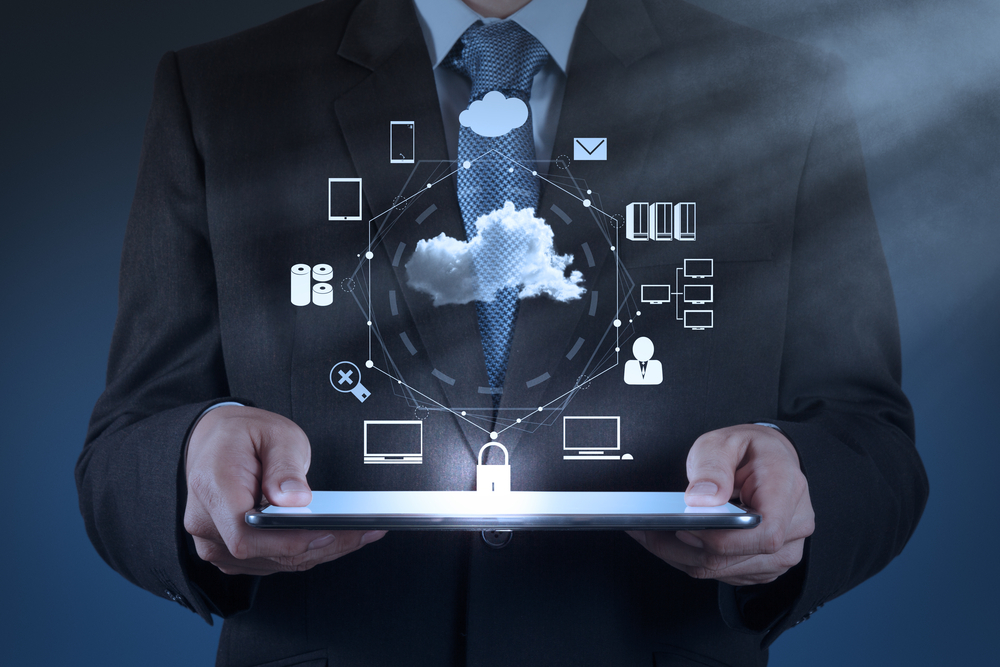 But even when companies could rely on business-as-usual in most respects, the cloud had already arrived as a key value driver for companies across a variety of industries. In fact, according to a 2018 Forbes article, more than 77 percent of businesses had at least one important business application housed in a cloud-based platform or solution. Fast forward to today, and it's nearly inconceivable that this percentage hasn't jumped a significant amount, especially during the first few months of 2020.
Aside from the obvious reason that cloud-based solutions take up less physical space than traditional methods of storing documents (and aside from significant cost savings), many small, medium, and even large-scale companies may still be asking themselves about the real-world benefits of cloud-based solutions. It might seem like now is the right time to make a change or undertake some modernization, but why target the cloud in particular?
Forbes estimates the Cloud-based solution industry will generate more than $160 billion in 2020 (this projection was published prior to the pandemic). Numbers don't lie, and that staggeringly large number should demonstrate to companies just how important cloud-based solutions are for companies in today's global world. But for those still hemming and hawing about making the move away from physical data storage and application hosting, let's examine a couple of concrete, dollars and cents, reasons why the cloud is more important now than ever before.
Challenges in Migrating to the Cloud
One of the most popular arguments in favor of the cloud is that the upfront costs are much lower, and the later costs much more predictable, than those of physical storage and hosting (there's some disagreement about whether the cloud has an edge in terms of total cost of ownership, TCO, but it can and often does). While this is no doubt attractive to most businesses, it does mean that any costs you might incur when it comes to migration will eat directly into your ROI. Often, the prospect of a complex and expensive migration is what keeps CIOs from pulling the trigger on cloud management projects.
This is understandable, but it's a concern that vanishes once you're fully aware of your options. The cloud has been around long enough that there are established migration techniques that you can use to power a smooth transition—perhaps more importantly, there are businesses that specialize in exactly that kind of migration. By partnering with an IT services company that specializes in the cloud, you can decrease upfront costs and cost uncertainty at the same time. Transitioning to the cloud without the right tools and the right roadmap can be costly, but the right partner will make sure that doesn't happen. Once you've got that sorted out, you're finally in a position to take advantage of the other benefits of cloud-based applications that we'll outline below:
Scalability
First things first, the cloud gives you the ability the ability to scale up or down as needed in a way that's impossible with physical storage. Rather than spending significant time, money, and resources adding new servers in your office to up your physical storage capabilities, with the cloud you can scale up and down on a whim, only paying for what you use. Without a boundary in terms of bandwidth, companies can not only operate with more efficiency and efficacy, but they also can increase their ability to effectively manage multiple projects or increased workloads. This is critical for companies or industries with fluctuating workloads or that experience seasonal shifts in productivity. Right now, there are plenty of businesses that are experiencing a sudden spike in demand (companies like Doordash or Grubhub, for instance), and if they were relying on physical infrastructure to handle increased orders and other operations, they'd likely be in serious trouble.
Of course, it's not just data storage and bandwidth that are more scalable in the cloud—projects themselves can be as well. Because of the decentralized nature in which they function, cloud-based applications make it easier to add team members, collaborate with business partners, or work with partner agencies. Reducing the on-boarding and lead time necessary to coordinate projects or tasks not only makes your business more attractive to customers, but it also helps give you the visibility you need in order to allocate the necessary resources to complete projects on time and meet obligations and agreements.
Accessibility
According to a recent study by OwlLabs, more than 30 percent of those in the American workforce work remote at least 2 days per week. In a time before the cloud, companies would have to create workarounds to documents and data sharing like email, external hard drives, or other physical storage methods that were costly and at times inefficient or unreliable.
With the cloud, anyone on your team can access the necessary tools and resources at anywhere in the world at any given time. In addition, cloud-based solutions allow for multiple users to engage with documents or data at any given time, which not only increases productivity and streamlines project management processes, but also allows for greater real-time collaboration and project accountability.
This level of accessibility is also key in powering more uptime and decreasing the downtime often experienced without a digital hub for document and data storage and distribution. To wit, a recent study by Microsoft found 61 percent of companies that migrated to and leveraged Cloud-based solutions significantly reduced the amount of downtime employees experienced in their day-to-day operations. This of course means increased productivity, as we touched on before, but it also means your employees will experience less frustration or consternation and will then enjoy a more pleasant work environment.
Competitive Edge
As we mentioned earlier, a cloud-based solution allows you to work with teams anywhere in the world without worrying about who can access which resources. Rather than being bound to the same physical location at the same times of day, workers can be productive anywhere at any time, meaning that your product designer in Texas can wake up in the morning with a slack message from an engineer at a nearshoring center in Costa Rica with the latest set of deliverable. These two can work at their own pace, while still being able to come together for daily standup meetings as needed. The result is that remote teams can coordinate in real-time to easily share, collaborate on, and see projects to completion without relying on email, fax, or other more traditional methods of data and information distribution.
But location flexibility also plays into another important element of cloud-based solutions: competitiveness. Yes, cloud solutions and their potential for easy customization can help you respond to rapidly changing marketplaces, but the cloud also makes you more competitive as an employer and from a talent acquisition perspective.
According to a study by LinkedIn, 80 percent of talent managers believe employer branding plays a large part in whether job seekers apply for a position. Part of your employer branding is what you can offer potential employees in terms of culture, work environment, and the resources and tools you offer they need for success. Cloud-based solutions demonstrate to potential employees that you understand the current technology landscape and you're able to adapt and move with the times—you can also make their experience that much smoother during the application process, provided you're using the cloud to power smarter applicant-facing processes.
Simply put: You need the right tools to attract the right talent, and in a world where competition for top talent is perhaps stronger than ever, leveraging the cloud can help you find the right person to help your company expand and grow.
Security and Reliability
Even with your best laid plans, documents and data get lost, erased, corrupted, or destroyed. In today's nearly completely digital world, the security and reliability of your files is critical not only to performance but also compliance and other regulatory matters that might apply to your business or industry. Not only do Cloud-based solutions allow you to operate more effectively relative to compliance and laws surrounding the nature of documents, data, or reporting you must maintain, Cloud-based solutions offer data or disaster recovery capabilities that the antiquated methods of storage and retrieval simply can't match.
For smaller-scale companies, cloud solutions offer this enhanced level of security and reliability at a price-point that is not only friendlier to tighter IT budgets, but also at rates that promote the potential for real ROI end-to-end.
Learn More About About Intertec's Cloud Solutions:
Intertec's teams have hands-on experience in developing and migrating applications on leading cloud platforms. In addition to design and development, we provide a complete range of application testing, deployment and on-going support services for applications and servers migrated to the cloud. Click here to learn more. Prefer a personal consultation? Go ahead and schedule a meeting with us here!