We discussed in a recent blog entry the key strategies for helping you effectively manage projects during the COVID-19 pandemic and what you need to know about working remote to ensure you remain positive, productive, connected, and fulfilled during this unprecedented time. Setting boundaries, establishing expectations, and defining protocols and workflows are a few of the culturally necessary pillars for success, but what about the tools and resources to help execute these ideas and put these strategies into action?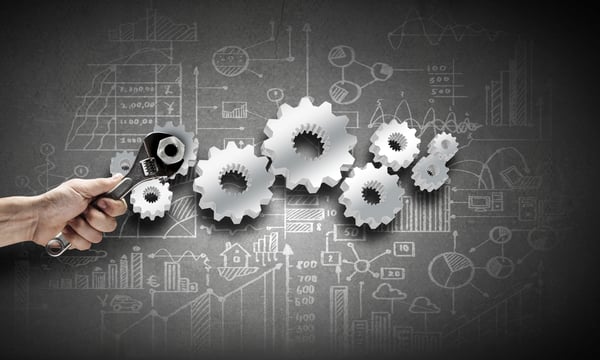 Though many businesses are pivoting to remote work out of necessity, it's also a move that plenty of companies have made in recent years for purely strategic reasons. Huge numbers of employees report feeling more productive and less stressed while working remotely, and the increased flexibility that distributed workers have can be a real boon from a delivery perspective. At the same time, there are certainly challenges to this kind of setup. According to CoSo Cloud, more than half of employees who work remote can sometimes feel disconnected or dispassionate about their work when not working in their traditional office environment. Other studies suggest that workers are more prone to working longer, more intense hours when there's no obvious separation between "work" and "home."
In short, it's a complex balancing act. Luckily, technology in 2020 offers a number of exciting solutions to the question of how remote teams can work as efficiently and effectively from home (or from the nearshore office park) as they do together in the same office. While the sheer scope and human cost of the current COVID-19 pandemic adds additional complexity beyond the simple fact or employees working from the bedroom as opposed to conference room, the same basic tools and strategies can make remote teams work seamlessly and responsively to get the job done.
1. Project Management and Accountability for Remote Teams
Forbes recently identified the most challenging hurdle for remote teams to overcome—whether both in the short and long term—as the ability to create, execute, and monitor a strategic plan. This is where a project management tool or solution is critical for assigning tasks, identifying areas for collaboration, promoting accountability, and ensuring end-to-end transparency from the start of the project to the end.
While it may be tempting to simply relay on email, a chat client (more on that later), text messages, or other communication channels to manage projects, too much is left to chance without a centralized hub where you and your team have shared to access to the status of a project. Plus, deploying a project management tool where everyone is able to understand the goal, current state, and timeline for the project pays residual benefits via an inclusive atmosphere where each team member feels empowered to contribute. When everyone feels like their input matters, projects get done on time and in-budget.
The right project management tool should offer you the ability to:
Organize, store, and retrieve documents or assigned tasks
Track progress and updates in a non-siloed manner
Collaborate with a number of team members at one time
Communicate in real-time
Ramp up new team members quickly and easily.
A recent study by OwlLabs indicated that only 30 percent of the American workforce works remotely full-time, and roughly 18 percent works remote 1-2 days per week. Given that an overwhelming majority of employees are more experienced working in a traditional office environment, a project management tool is more than essentially for providing some sense of normalcy in an abnormal moment. At the same time, this is also an areas where experience matters. Companies that are used to managing projects remotely are going to be at an advantage when it comes to operating tools like these and leveraging towards their business aims—if you're able, you can and should take your cues from those who are old hands at remote work.
2. Clear Communication Channels
It's no secret we have literally dozens of ways to communicate in today's works. Email, text messaging, social media, chat clients…and remember when we used to call on the phone? But with so many communication channels available to remote employees, the opportunity for confusion (via a lack of clear, consistent communication) looms large. This may sound ironic, but the more varied the communication vehicles, the less likely it is that effective communication will actually take place—and clear, defined communication channels are key with remote teams spread across the globe.
This is why a designated communication tool like Slack or Microsoft Teams will not only alleviate the possibility of oversight or gaps in clear understanding of current needs or tasks, but it will also help create a stronger sense of community and fellowship with each team member operating on the same platform. Whether you're trying to motivate teams that are used to communicating face-to-face, or you're onboarding a remote team in another part of the world, a centralized means of communication is critical. After all, synchronous communication (as opposed to asynchronous communication like email) is a must if you're trying to work within an Agile or Agile-related project management methodology.
This also means you need to think beyond just relying on email as your primary means of communication. Yes, email should be part of your remote workflow just like it would be under normal circumstances, but deploying a chat client or other form of real-time messaging solution allows for faster, more synchronous communication and creates that team atmosphere that many employers are sorely missing in a remote situation.
3. Cloud Storage and File Management
Not to state the obvious, but there's no communal file room when your teams are working remotely. You can't drop a document into a fellow employee's mailbox or on their desk to keep workflows moving consistently. And while sending attachments via email or a chat functions can serve as a patch or quick-fix for single-page documents or small PowerPoint presentations, what about large files that require multiple team members' input and contributions?
Enter cloud storage, which you'll quickly discover to be your best friend in terms of centralizing document storage, retrieval, collaboration, and distribution. A cloud storage tool also gives you the ability to access documents or files from anywhere at any time, which is critical when you're working in a new environment (like your living room, while the office is closed) but just as critical when you're trying to work cross-functionally.
The cloud can have a few other distinct benefits from a remote-work perspective:
Increased security of documents and files
Project automation and replication capability
Increased scalability
Data recovery
Regulatory compliance functionality
Plus, a cloud storage tool provides cost-savings opportunities: You can pay-as-you-go, reduce your physical data storage footprint, streamline storage workflows, and simplify your physical infrastructure.
4. Videoconferencing
Not to contradict our earlier point about designating a clear, unified communication channel where all team members can access and engage, but there are times even in a remote setting when a chat function or email chain simply won't suffice. Even with team members scattered across the globe, a video conferencing solution is a must-have tool in your toolbox to maintain as much of a business-us-usual atmosphere as possible.
Video conferencing tools like Zoom and GoTo also allow for users to share presentations, charts, data, and other important pieces of information in real-time in a more dynamic way than simply uploading them to the cloud. In addition, video conferencing solutions allow for recording, editing, storage, and retrieval options to help document presentations and preserve them for use at a later date. This means employees who are unable to attend a video conference don't miss out on potentially critical information or updates, and this also allows you to share past video conferences with new members of the team, freelancers, potential customers, or others who may benefit from any given call.
Remember: Part of what your employees are missing in a remote situation is face-to-face interaction with each other, and a video conferencing tool gives you the ability to bridge that gap. Setting up a shared video conference room or session that is designated for the conversations you would have in the hallway, the break room, or at the copier will go a long way in maintaining morale and promoting team building. Again, if your project management methodology relies on daily scrum meetings or the like, this can go a long way towards keeping things on track—to say nothing of building trust between team members who may never even meet in person.
5. Time Management
Like we said above, one risk of remote work is that people will work longer hours and fail to set appropriate boundaries. This is where time management tools become critical—whether that's something as simple as using a calendar app to track your meetings or setting up a reminder system that lets you know it's time to take breaks.
As it happens, your calendar can also be a useful tool for setting boundaries for when your workday starts and ends. Let's say you're based in Seattle. A co-collaborator lives in Chicago. A project manager lives in Brussels. And now you have to schedule a conference call for a status update on a certain project—it can be tempting to accept meeting invites at all hours of the day and night, but in the long run it's not a great practice to encourage. By marking your shared calendar with the hours of your workday, you can discourage others from inviting you to meetings that occur after your day is over.
As it happens, this scenario is also where a time zone conversion tool comes in handy. Such a thing reduces the opportunity for error or having to reschedule a conference call multiple times to accommodate for differences in time zone. This might seem like a somewhat elementary tool, but in times like these it can be the little things that provide some of the biggest upside in terms of reducing the little annoyances or headaches you would otherwise encounter. In addition, some time zone conversion tools also include smartphone apps or other integrations to alert you when meetings are set to begin or appointment are altered by other participants.
Given that all communication between remote team members must take place in a digital format, desktop/laptop alerts, push notifications, and other reminders become more valuable than ever before for you to attend each and every call, video conference, or chat session. If you're working with offshore teams in Asia, doing time zone conversions correctly can often be mission critical. If, by contrast, your outsourcing is to nearshore companies in Latin America, time zones don't have to be as much of a headache.
Learn More About Intertec's Project Management Services:
Intertec offers a wide spectrum of options in infrastructure management. We perform end-to-end, nearshore outsourcing for specific infrastructure functions to help you construct and integrate technology architecture. Click here to learn more. Prefer a personal consultation? Go ahead and schedule a meeting with us here!